Matricianella Cucina Tipica Romana
Historical restaurant, located in the maze of fairy alleys between Piazza di Spagna and Via della Fontanella Borghese, between the majestic Palazzo and Piazza San Lorenzo in Lucina, now turned into an outdoor living room.

The Restaurant was established in 1957 by a family from Amatrice: hence the name Matricianella which, in addition to the clear culinary citation, was the nickname of a girl whom the Via del Leone restaurant was dedicated to by the founder.

Since 1995, the restaurant has been run by siblings Giacomo and Grazia Lo Bianco who, with passion and tradition, have been continuing with the sincere flavors of a Rome that seemed vanished and that instead still exists in the center of Rome.
Who we are
Thanks to the knowledge of the territory and local traditions, Matricianella proposes a Roman cuisine respectful of traditional recipes and cooking, using fresh seasonal products, mainly produced by local realities and small farmers.

Chef Giovanni Fabbrotti, leading a qualified team, together with Lorenzo Vannucchi and Stefano Timi, knows how to handle the kitchen: he turns emotions into flavors, those flavors that are served at tables laden with courtesy, expertise and enthusiasm by the Matricianella staff.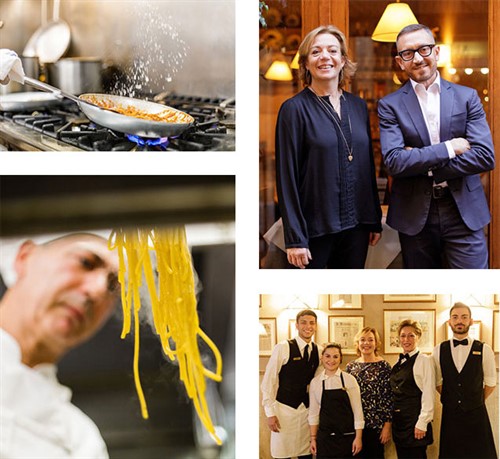 The winery
In our room there are three sommeliers of the Italian Sommelier Foundation with professional qualification issued by the Lazio Region, waiting for satisfying commensals' requests.

The winery has almost a thousand labels that are stored in the dark, in wooden shelves, with controlled temperature and humidity to better facilitate the wine evolution, which, like a living being, has a soul and a character in continuous development.